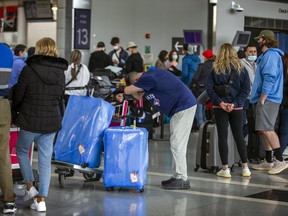 Article content
Canada is now a solo traveler on the international stage when it comes to travel mandates for planes and trains — measures which appear increasingly to be punitive rather than backed by any evidence or logic.
Article content
As of May 16, the European Union no longer mandates face masks for air travel. This follows the removal of the federal mask requirement on public transport in the United States, after a federal judge ruling such mandates are unlawful.
The US was a laggard to the United Kingdom, which removed its mask mandates on aircraft a full month earlier, in March. The UK's announcement was part of a much larger and more significant move, lifting all remaining travel restrictions, including coronavirus testing requirements, for unvaccinated visitors.
Meanwhile, Canada still has its closed-sky COVID policies firmly in place. The Trudeau government remains willingly, even vindictively, stubbornly in easing its tight grip on the few remaining restrictions within its control — namely, vaccine and mask mandates on federally regulated transport, including air and rail.
Article content
Under Prime Minister Justin Trudeau's leadership, the federal government is living in a parallel universe, completely out of step with almost any other western country, and even its own provincial governments. Canada's vaccine mandate on domestic travel puts it in the company of North Korea and China.
Almost every country in the world now allows its unvaccinated citizens to fly internationally, except for Canada. Even New Zealand and Australia — two of the most COVID-locked down countries on earth, relinquished such control last month. For weeks now, the unvaccinated Antipodeans have been free to travel both within and outside of their countries.
According to the London Times, the list of countries now welcoming the unvaccinated include Lebanon, Cuba, Kazakhistan, and Saudi Arabia.
Article content
It will take years, if ever, for Canada's aviation and tourism industries to recover from their glaring absence on the world stage of global air travel.
Moreover, I can't help but wonder what Trudeau, the senior, would think of the junior? After all, it was Pierre Trudeau who enshrined minority rights in the Canadian Charter of Rights and Freedoms, for this very situation that sees the majority being allowed to run roughshod over the minority. He seemed to have a special insight into the power of a herd mentality that can sometimes sweep through a nation, especially during a national emergency.
"When collective rights take precedence over individual freedoms — as we see in countries where ideology shapes the collectivity, where race, ethnic origin, language and religion shape the collectivity — we see what can happen to the people who claim they live freely in such societies ," he said at the time.
Article content
"When each citizen is not equal to all other citizens in the state, we are faced with a dictatorship, which arranges citizens in a hierarchy according to their beliefs."
There are more than 3.5 million citizens who remain unvaccinated not because they are being selfish, which is the political message, but because of their beliefs. Unlike the vaccination, they believe a vaccine's role in ending a global pandemic has its limits.
That is a significant minority robbed of their fundamental rights — rights enshrined by Pierre Trudeau's Charter — "to enter, remain in and leave Canada."
The Trudeau administration continues to spout the tired and utterly discredited line of "we are following the science," but what science is this? That line is an ideology itself — a blind belief in some sort of vague definition of "the science."
Article content
How about common sense? Pragmatically speaking, if this is evidence-based public health policy, shouldn't federal politicians be asking why "Canadian science"
is so different from that followed by the country's own provinces and much of the rest of the world, save for communist China?
And if these federal Canadian scientists really are so offside with their peers, what makes the Trudeau government so confident that its advice that should be followed, rather than that being followed by the United Kingdom or the European Union et al?
Both the prime minister, and his deputy prime minister Chrystia Freeland owe Canadians answers.
For travelers who can't wait for the Canadian government to be dragged kicking and screaming out of its authoritarian, COVID-dystopian mindset, do you a favour. Book on British Airways or other, non-Canadian airline. That way, as your plane lifts off from the runway, you can sit back comfortably unmasked, look out the window and wave, or perhaps give a less polite gesture, to Justin's not-so-free-land.
National Post
Ashley Hughes is a British-born freelancer living in Vancouver.