For Yashua Klos, identity is a culmination of material and spiritual conditions. In large-scale woodblock prints and sculptures, the Brooklyn-based artist ruminates on the interrelations of race and class in the United States through the lens of labor. Raised by a white mother in Chicago, Klos recently connected with his late father's side of the family after an online DNA test matched him with a long-lost cousin in working-class Detroit. The centerpiece of his latest exhibition, OUR LABOURis an adaptation of Diego Rivera's commissioned murals for the Ford auto plant in which Klos replaces the faceless, mainly white workers with detailed portraits of newly acquainted Black relatives, correcting the recorded history of who really built this country.
Print OUR LABOUR, currently on view at Hamilton College's Wellin Museum, Klos draws from personal photo albums, automotive blueprints, and Depression-era factory photographs to uplift the image of Black families in a city abandoned by industry. While Fordism stood for the segmentation of creative labor, Klos revives an ancient perception of the artist as builder of the world. Using four-by-eight-foot woodblocks, he carved and printed replicas of Ford machinery. Another mural titled When the Parts Untangle was created with assistance from Wellin students, who developed a repetitive work process that mimicked an assembly line. Complementing these pieces is a series of sculptural masks that bring together elements of African tribal art and vintage welding helmets, with the artist literally burning them with a torch to fuse these histories together.
—Billy Ananias
Billy Ananias The labor history of Detroit over the last half century has included industrial disinvestment and urban redevelopment as well as racialized economic inequality and radical unionism. In your recent work, you touch on all of these issues in relation to your personal experience reconnecting with family. Can you speak on the different kinds of labor you address in your art and the labor that goes into it?
Yashua Klos I am thinking about labor in a few different ways. There is that history of a blue-collar workforce building Midwestern cities like Detroit, which was specifically a result of the Great Migration with Black folks moving from the South for industry jobs and contributing to its foundations. Of course nowadays they are being left out of the renewal. As we see with global capital markets, those jobs are getting shipped overseas, and the auto industry is no longer the heartbeat of the American economy.
That said, I am also thinking about the work it takes to keep a family together. My father was one of fifteen children. His eldest sister, at age eighteen, convinced a Memphis judge that she would become the sole guardian of her siblings and bring them to Detroit, sustaining them with jobs at the Ford plant. I am thinking about that labor of love through uprooting and re-rooting—all the trials that a migrant family goes through. Love is really about overcoming all, and family is so central to togetherness.
My family has reunions every year in addition to large birthday parties and other celebrations. I mean, they will even come out and support a second cousin graduate high school; they'll travel from Detroit to Virginia in a caravan bearing gifts, love, and a party for three days straight. This is especially special to me as an only child raised by a single mother. I realize now that it takes time, energy, and resources to reach out, make phone calls, go visit, and have them visit. Really, this exhibition is all about the labor involved with reconnection through estrangement.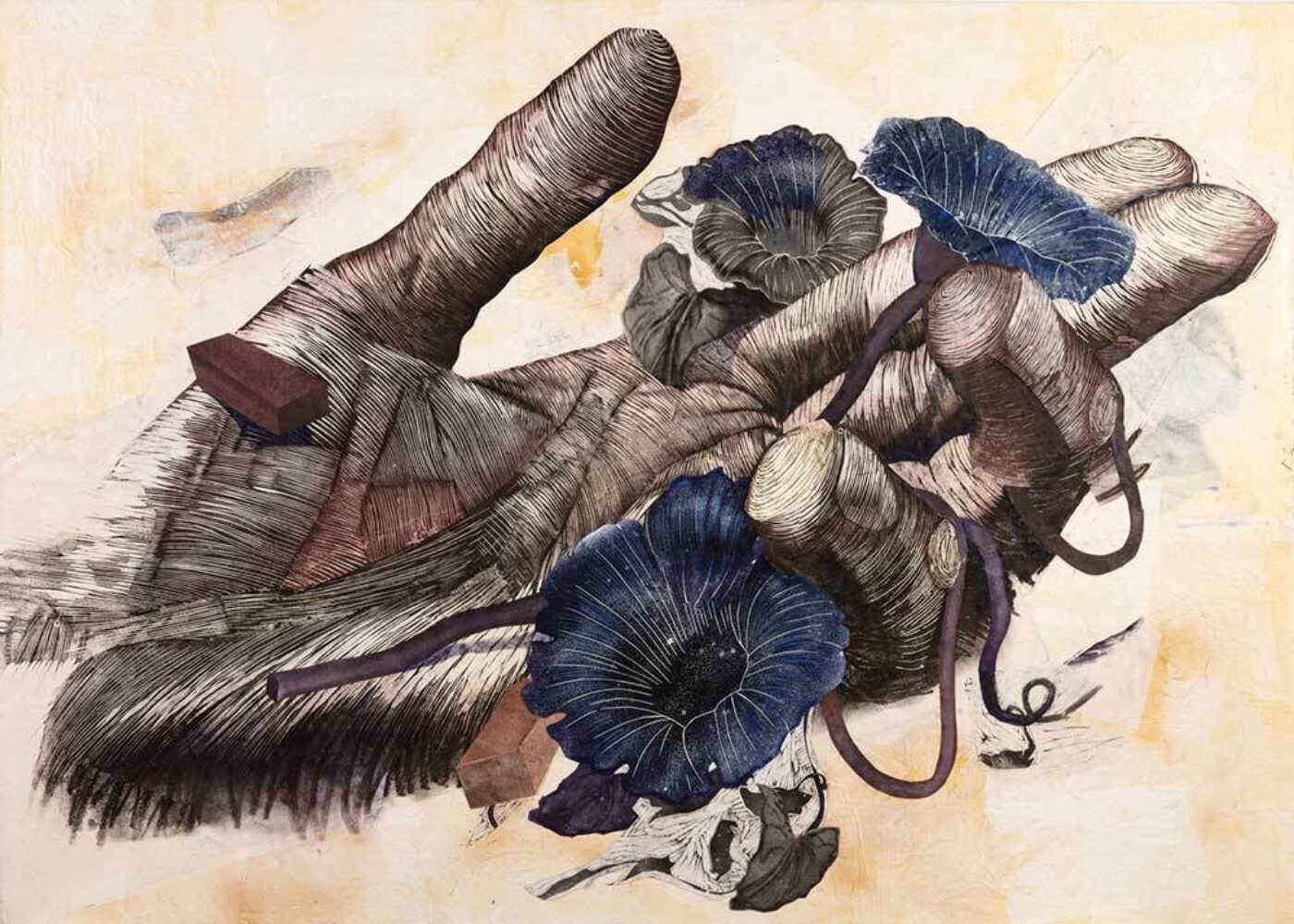 FATHER I can only imagine how it must feel to have hundreds more family members all of a sudden. As an only child from a small family myself, I can be so internal and emotionally closed-off, which very much has to do with that solitude. It must be an adjustment!
YK It really has been mind-blowing. The best analogy I have is that I hit the lottery but do not remember playing a ticket.
FATHER Your individual studies of human faces take different forms, most recently studying individual family members to learn their facial features. You also leave empty space to focus on each component of the larger composition, even though it's a fully formed work in its own right. Would you consider this a reinvention of your practice?
YK I'm not sure I would say "reinvention" because in some ways it's stripping down my practice to its most essential focus. Before this, my work was about identity but not portraiture. Anonymous faces represent identity in flux, and I made composites from various materials within the built environment such as wood, concrete, and cinder blocks—basically representing fragment identity from its surroundings.
Now, I am capturing likeness and carving familiar faces, a process of literally ingraining into wood and figuratively ingraining their image into my hand and mind. It simplifies everything. In the past, I consider my own construction of identity without that DNA knowledge, figuring out selfhood in relation to community and environment. Now it's about the direct identity that portraiture can communicate—a real person's character.
On top of that, there is a more political agenda of representation because that original Diego Rivera mural showed only a few faces of workers. The only clearly defined features facing the viewer were of the Ford family, who commissioned it. As a communist, Rivera's perspective was that workers sacrifice identity in their labor towards the country, so I am inverting that and giving actual faces to this legacy.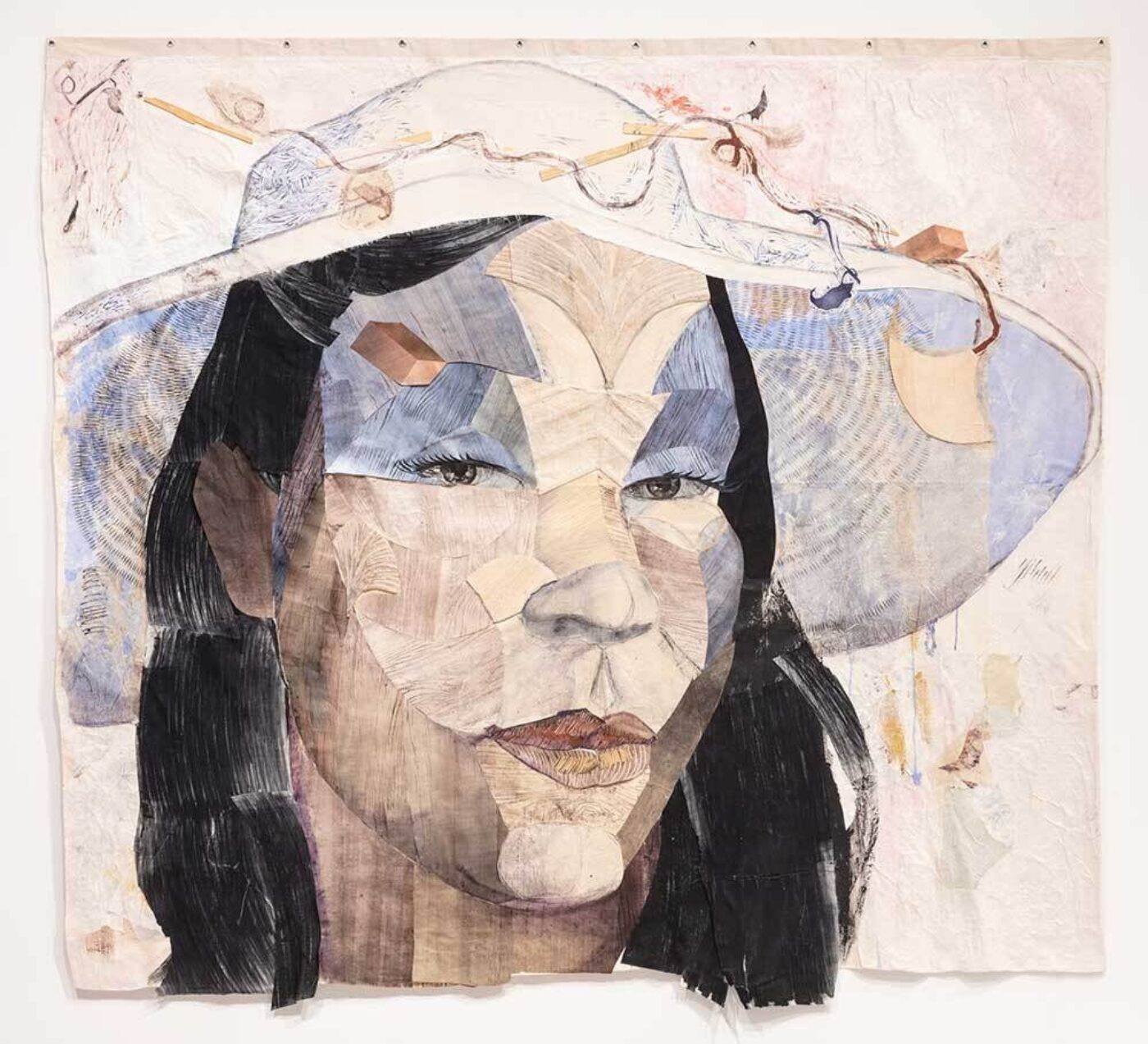 FATHER And in making these new connections, it's supposed even more communist—at least in my opinion. One related aspect I detect is the political history of woodblock printing, because you make futuristic and progressive art using an ancient medium. Who have you looked to as inspiration?
YK Woodblock print of course goes back to ancient Egypt; there is no simpler printmaking technique than carving a piece of tree, inking what remains, and pressing a print out of the relief. For that reason, it is also the most honest and direct without chemicals or elaborate tools. You see that directness throughout history, especially political posters from grassroots organizations. That history runs deep in the American context, with propaganda serving as an instrument of the people. Then there is the Japanese poetic tradition, namely Katsushika Hokusai and Utagawa Hiroshige using woodblocks for vast, sweeping prints of Mount Fuji and village life. They could capture large, monumental scale in such a small format.
Really though, everything connected for me after seeing Charles White's woodblock prints. I remember thinking to myself, "Wait, this is a print of a sculpture." I could tell it was carved from something, and I was looking at the byproduct of the artist's kinetic gestures and marks. I entered from that tradition—African Americans translating a drawing into a reproductive print and distributing them cheaply, rather than one-off originals.
FATHER Totally, and nowadays we can see this among so many socialist and communist artists in the post-Soviet era. In your work, I can see not only Charles White but also radical printmaker Elizabeth Catlett.
YK Oh, yes, those are my heroes right there!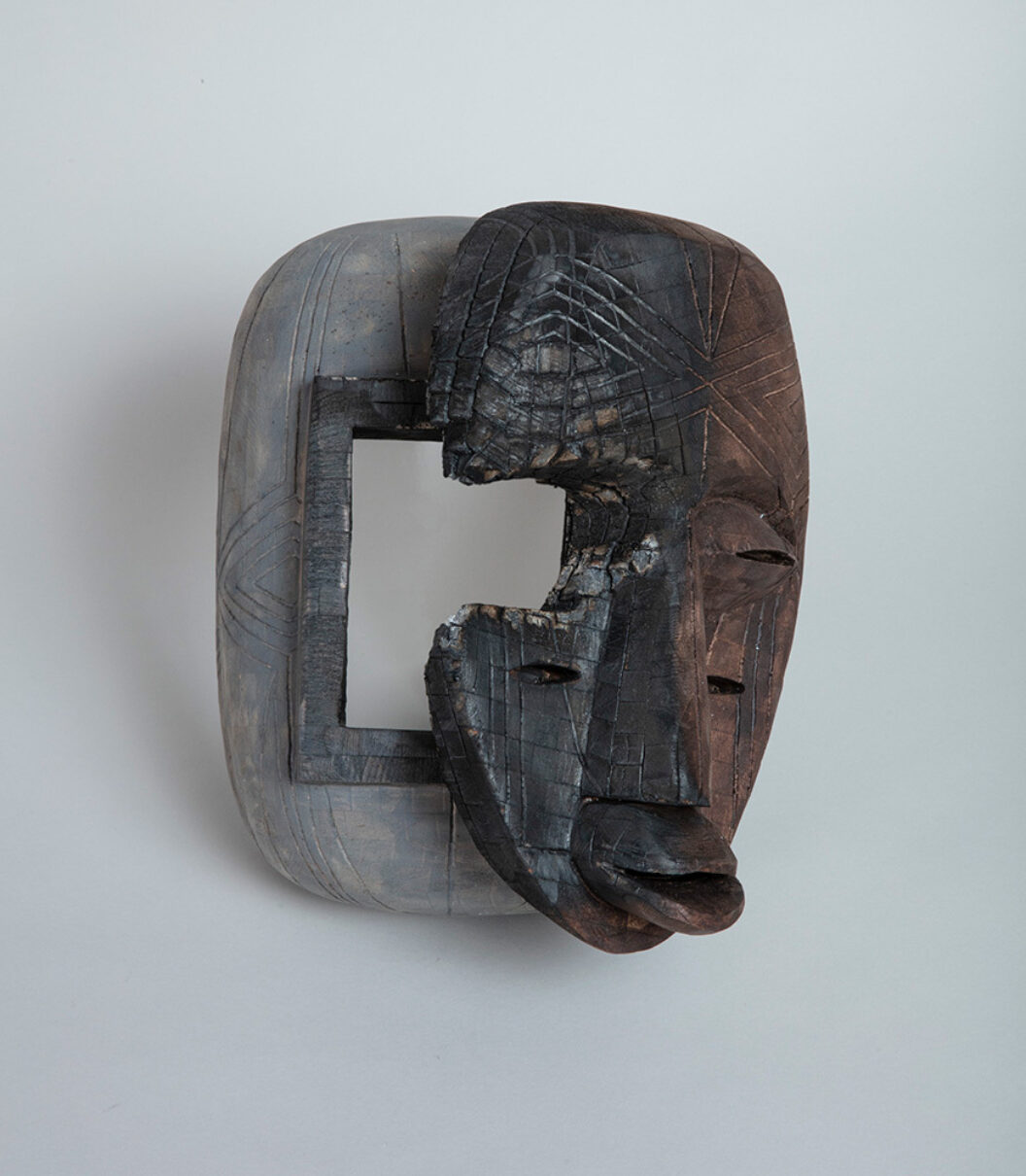 FATHER Can we talk about the African welding masks, particularly in regard to what you say is "hiding identity versus conjuring identity?"
YK In mining that Rivera mural and vintage photographs from Ford auto plants, I kept going back to the work uniforms, which my relatives also wore when they worked there. Of course we are all thinking about masking these days with the pandemic, but I am considering the historical functionality of masks in my family's migrating from the plantation to the plant, as well as my African heritage. Those sculptures bridge estrangement and fuse myself with those histories up to the present. They collapse time, in a sense.
FATHER That last point reminds me of exchanges between Léopold Senghor and Kwame Nkrumah on the meaning of African socialism during the "decolonial" period. For the former, it meant returning to ancient traditions, while the latter that only present conditions can model the future. Importantly, you are putting these ideas into dialogue without resolving them. I think this is crucial because these conversations are all still developing.
Your family is still in the Midwest, correct? Will they get to see the work in person?
YK My Detroit relatives, whose faces are in the mural, are really excited to see it. Some of them have never been to New York City or on an airplane, so when the show travels to Sikkema Jenkins in Chelsea this fall, they will finally get to see themselves represented. I have shared some photos and videos with them, but it simply does not compare to seeing it up close. It will be a once-in-a-lifetime experience.
Yashua Klos: OUR LABOUR is on view at the Ruth and Elmer Wellin Museum of Art at Hamilton College in Clinton, New York, until June 12.