For one longtime Verona resident who served 28 years in the Army, travel is second nature. Even so, one recent journey for Charlotte Jerney was still the honor of a lifetime.
On May 14, Jerney boarded the 41st Badger Honor Flight with 80 other veterans. While the inaugural flight took place in April 2010, this May 2022 flight was the first time there was an all-women flight.
The trip was made possible through funding from a female donor.
Badger Honor Flight is a regional affiliate of the national Honor Flight Network. The flights take veterans from wars including World War II, the Korean War, and the Vietnam War and flies them to Washington, DC to see the war memorials there.
Charlotte Jerney moved to the City of Verona in 2005 to be closer to family, but has been a Wisconsinite since birth, having been raised in Amery. She served as the Alder for Verona's District 3 from 2017-2021. As the mayor and other alders were all in their thirties and forties, she called herself the "elder alder."
As an alder, she sought to focus on "instituting civic minded police programs to combat the rising opioid crisis, inclusivity, and diverse perspectives to make a high functioning council, promoting public health practices and paying attention to environmental conservation."
Her lifetime of leadership started decades earlier at a Minnesota college.
When Jerney first arrived at Gustavus Adolphus College in 1960, despite her mother having been a nurse, Jerney had intended to become a social worker. She jumped into the nursing program line on the first day of college because an old friend from childhood Bible camp was there.
While earning her nursing degree from Gustavus Adolphus College, she joined the Army Student Nurse program and after graduate college in 1964, decided to make a career out of it because she already owed two years of service to pay back a stipend she received for her senior year of college.
She also enlisted because of her husband.
"My husband was in the ROTC and was the son of an Army officer and he was the one who encouraged me to pursue the student nursing program that got me into the Army," Jerney said. "I was going to do two years and be done but by then I was a second lieutenant, then first captain. After that, I kept getting good assignments and promotions, and life just continued in the Army and I was fortunate to have a good career. I don't regret it at all, I just kind of fell into things and things happened."
Jerney's first two entry years in the Army Nurse Corps included medical surgical nursing at the 44th Surgical Hospital, Mobile Army (MASH). This was the closest hospital to the Demilitarized Zone (DMZ) between South and North Korea and supported the 2nd Infantry Division.
She often saw traumatic situations there, such as Koren civilians who had lost limbs after stepping on landmines.
After Korea, she worked in a hospital in Vietnam for a year. She was stationed at the China Beach 95th Evacuation (EVAC) hospital, Danang from 1970-1971 and was awarded a Bronze Star Medal for meritorious achievement in ground operations against hostile forces.
In Vietnam, serving as the head nurse, many of her patients had open head wounds or brain injuries. Some had had their faces slashed open by the Viet Cong.
When she returned stateside, she was stationed at Fort Carson in Colorado where she worked in labor and delivery and later was the chief nurse of the nursing program.
She also worked for a temp agency where they sent her into hospitals with leadership problems where she stayed several months cleaning things up before moving on.
She went on to work in the surgical and neurology unit of Walter Reed National Military Medical Center and later the VIP ward and presidential suite where she served President Eisenhower, several WWII generals, Supreme Court justices, senators and congressmen.
That was a big part of her clinical experience, as her was neurosurgical nursing, then her career progressed into senior management positions that took her away from clinical work.
Jerney got a masters degree from The Catholic University of America in Washington DC and taught at Waler Reed's Army baccalaureate nursing school.
She found herself back overseas when she had a tour in Germany and was placed in a general hospital outside of Stuttgart.
Once back in the states again, she worked as the director of army nurse recruiting in Fort Sheridan, Illinois.
Her Army nursing career came to an end in San Antonio, not by choice, but because of a broken arm.
Charlotte ultimately served in the US Army Nurse Corps from 1963 to 1992. During her 28-year career, she earned the rank of Colonel.
She went on to serve on Gustavus Nursing's National Advisory Board.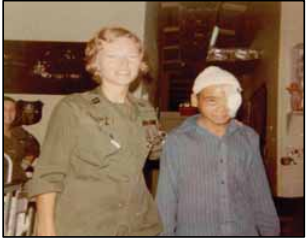 Looking back on three decades of being bounced around the world while helping the sick and injured, Jerney said each location offered its own experience.
"It's very hard to say every assignment was a good assignment," Jerney told the Press. "There were good people and good locations. If I had to say a favorite, it's hard to say, but Germany was very good, also the DC area, and I liked Fort Carson for the skiing and outdoor activities."
Today Jerney said she still likes to be active outdoors. She enjoys bicycling, hiking, and kayaking. As a 20-year breast cancer survivor, she said it's important to keep herself fit.
In 1992, within six months of having retired from the University of Connecticut as its nursing director, she was diagnosed with breast cancer. But she says she is healthy today.
Her career in the Army was not enough to scratch an international itch, and she continues to do a lot of traveling. Earlier this year, she spent three weeks in Africa, seeing Rwanda, Zimbabwe, and Botswana. She has taken a trip to Jordan and Egypt with friends. Just before the COVID-19 pandemic she toured Tunisia, China, and The Caucasus. Amsterdam and Budapest are stamps in her passport. She's even been to Antarctica.
Despite a life that has found her setting up home in so many places near and abroad, Jerney decided in 2005 to move back to Wisconsin to be closer to family and return to her roots. At the time, she had been working as a nursing consultant, especially in surgical units, in many hospitals throughout the country.
"I think in the Army you create family type situations because you are away from your real family," she said. "Whether on domestic or overseas assignments, you develop really strong relationships, and that's what helps you get through."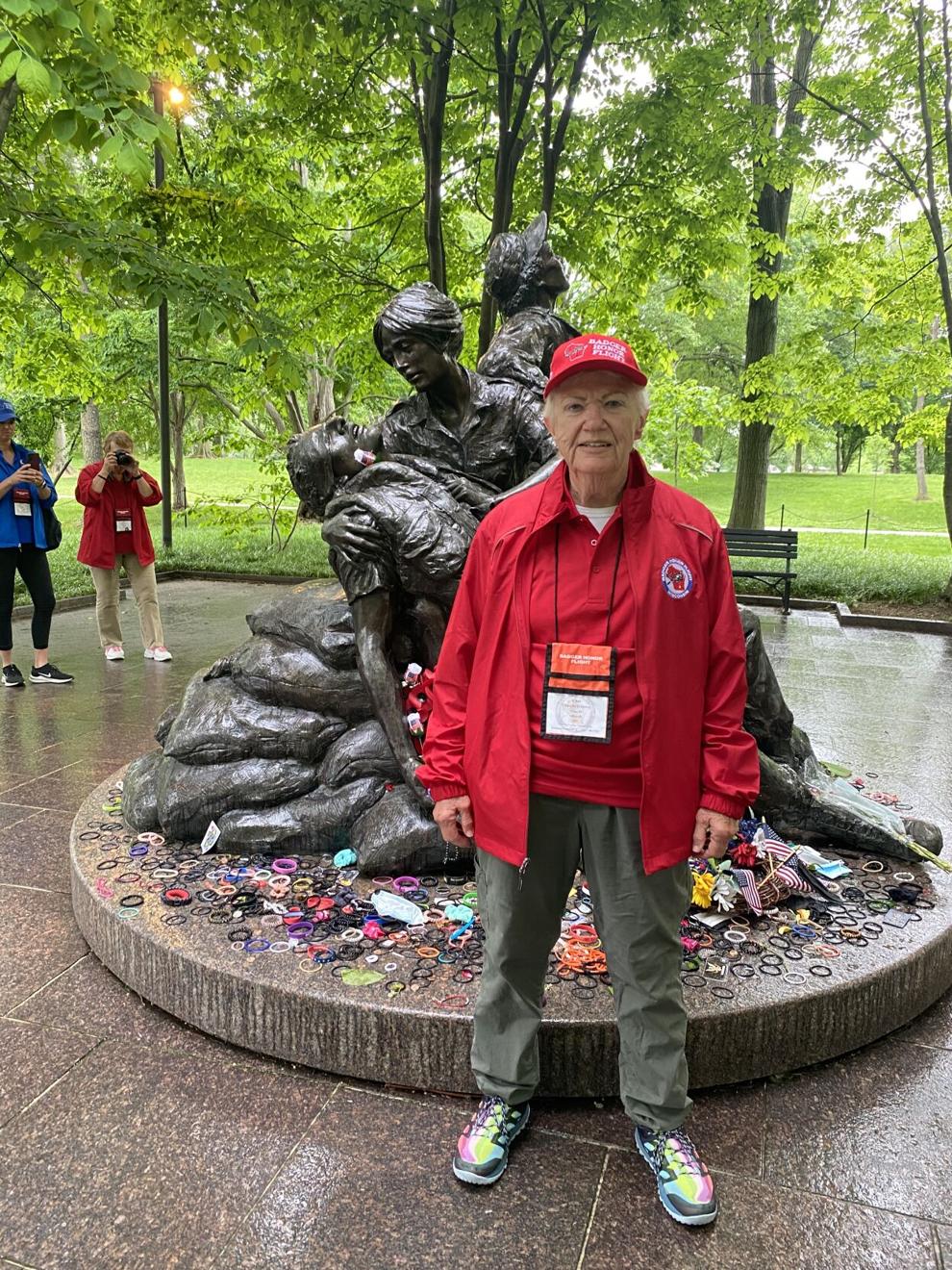 Jerney didn't know much about the Badger Honor Flight until she planned to take a flight with her brother, but he fell ill and they lost their opportunity to travel together. Then the COVID-19 pandemic canceled several flights and Jerney was also busy being a Verona alder.
It was Verona's American Legion Post 385 commander Stan Hook that encouraging Jerney to sign up at the beginning of this year to join the first-ever all-female Badger Honor Flight.
All veterans on Badger Honor Flights are accompanied by volunteer guardians, and Jerney was joined in her journey by her niece, Madison Laura Franzen-Elmer.
The guardians are given some training and let in on little secrets ahead of the flight.
"Before the flight, I thought, 'I know what it's about, you visit monuments,' but I didn't realize until we actually got there the morning of and throughout the day until coming home what a really big deal it is and the logistics and number of people pulling it off. Laura had to go to training so she could handle me properly, it was really something."
One of the secrets that led to a teary and emotional moment mid-flight was a "mail call" where Jerney was presented with letters and notes from friends, family and acquaintances.
While it is extremely emotional for the veterans, it stands out as one of the highlights of their trip.
On May 14, the 80 women left Dane County Regional Airport and flew into Ronald Reagan Washington National Airport on a chartered flight. It was the plane's first-ever flight, and the plane was designated forevermore as 'Flagship Valor.'
In DC, they visited the Marine Corps monument, Lincoln Memorial, Air Force Memorial, and Arlington National cemetery. They specially arranged to see the changing of the guard at the tomb of the unknown soldier and went to the memorials for WWII and the Vietnam and Korean wars.
While it was a rainy and overcast day in DC, it didn't bother anyone on the tour. Everyone was in a good mood. Jerney and Franzen-Elmer took a selfie together at each monument or memorial.
As Jerney is an Army colonel and Franzen-Elmer is an Army brat, it was tough for them to admit that their favorite stop was actually the Air Force memorial.
Back in Madison at the airport, a crowd of both familiar faces and strangers provided a cheery welcome home to the veterans.
There was an honor guard with flags, Dane County Sheriff Kalvin Barrett shocked everyone's hands, and the fire wing of the United States Air Force was there. Verona's American Legion Stan Hook was also there to welcome Jerney.
"It's amazing the number of people who came out," Franzen-Elmer said. "People actually sit at the airport for three hours just to clap for you. Strangers coming out just to be supportive of veterans."
"That was really special," Jerney added.
A lot of veterans don't talk about their service much unless they're asked about it, Jerney said. That is why it was such a "powerful experience" for her to be standing in line to check-in at the airport and the woman she began talking to had also been stationed in Vietnam, just a year apart from Jerney.
"I had never seen that many women veterans in one place with common experiences, that was pretty powerful," said Jerney.
"I am the daughter of a retired lieutenant colonel that was also served in Vietnam," Franzen-Elmer said. "I'm not trying to take anything away from the men, but many of them were drafted. Every woman who was there by choice. It's interesting that many women purposely chose that path. My aunt's experience was unique. On the flight, I expected to meet a lot more lifers who had made a career out of it, but there wasn't really many who did."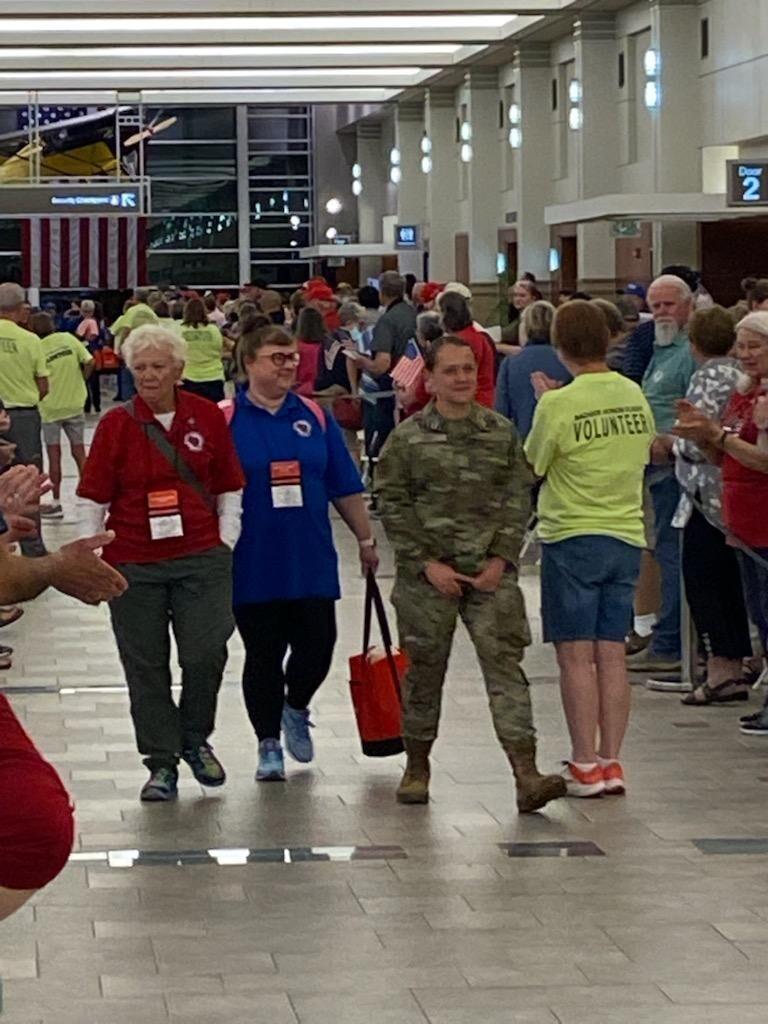 .