Russian speakers in Estonia live in a tug-of-war between Russia and the West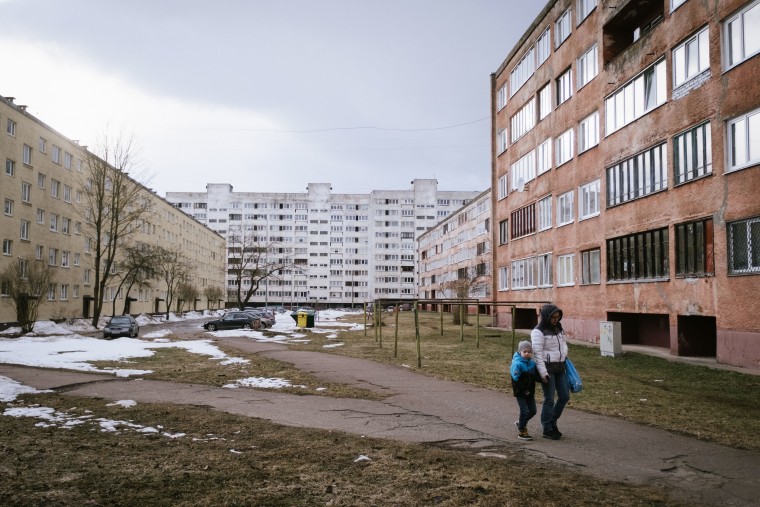 This town of about 55,000 on the border with Russia could be at the edge of a new Iron Curtain created by Russia's invasion of Ukraine. It's a place between two worlds, where Russia and Russian identity meets Estonia and the West.
That's apparent even in the architecture: Hard-edged brutalist buildings of the Soviet era house or sit between sushi restaurants, a German grocer and a startup incubator. A curvy new shopping center that boasts shops like H&M contrasts with a well-guarded and busy border checkpoint less than a mile away. Around 3,000 people cross daily. Russians come to Estonia to buy cheese they can't buy at home or other Western goods, and Estonians sometimes travel to Russia for cheap fuel and building supplies.
Estonia, as well as the neighboring Baltic countries of Latvia and Lithuania, have populations that reflect this mix and the tense geopolitics. Many here describe three camps among Russian speakers. About a third are entirely opposite to Russia's war in Ukraine, while a middle group says it desires peace but expresses a sense of confusion among vacillating reports from Western news media and Russian propaganda sources. A small minority supports Russia's invasion.
Read full story here.
9 humanitarian corridors to open Sunday
Nine humanitarian corridors will be set up to evacuate Ukranian civilians on Sunday, the country's Deputy Prime Minister Iryna Vereshchuk said in a statement posted to her Telegram channel.
The majority will open in the country's east where Russia is expected to re-focus its onslaught in the near future.
Vereshchuk said the people could use their own transport to leave the besieged southern city of Mariupol and head towards the city of Zaporizhzhia.
Evacuations to Zaporizhzhia by bus and private transport would also be permitted from the towns of Berdyansk, Tokmak and Enerhodar, she added.
In the Luhank region, she said that people from the towns of Sievierodonetsk, Lysychansk, Popasna, Rubizhne and Hirs'ke village would be allowed to travel to the town of Bakhmut in the nearby Donetsk region.
Global donations pledge nearly $10 billion to support Ukrainian refugees
Donors including the Canadian government and the European Commission on Saturday made nearly $10 billion in donations, loans and grants to support fleeing the war following Russia's invasion.
The fundraising event in Warsaw, Poland, yielded nearly $2 billion to support internally displaced people inside Ukraine, and nearly $8 billion for refugees who have fled the country to neighboring states.
Governments, companies and individuals together $4.5 billion in donations, which will be distributed widely via the Ukrainian authorities or the United Nations.
Zelenskyy thanks Boris Johnson for Kyiv meeting as UK offers more aid
Ukrainian president Volodymyr Zelenskyy thanked UK Prime Minister Boris Johnson for his Saturday visit to Kyiv where he briefed him on the ongoing war with Russia.
For his part Johnson said the UK would provide Ukraine with additional financial and military aid.
"This visit is a manifestation of strong, significant, constant support of the United Kingdom for Ukraine. We appreciate it and will remember it," said Zelenskyy in a news release.
He added: "I am grateful to the United Kingdom for continuing these powerful supports, continuously increasing its packages, and also helping Ukraine by strengthening our defense capabilities."
Zelenskyy said that other Western democracies should follow the example of Great Britain, saying that it is time "to impose a full embargo on Russian energy, to increase the supply of all weapons to us."
Boris Johnson in Kyiv: 'Putin must fail'
KYIV, Ukraine — UK Prime Minister Boris Johnson's surprise visit with Ukrainian President Volodymyr Zelenskyy in Kyiv included a pledge of 120 armored vehicles and new anti-ship missile systems, part of another 100 million pounds ($130 million) of high-grade military equipment. Johnson also confirmed an additional $500 million in World Bank lending, taking Britain's total loan guarantee up to $1 billion.
Johnson said Ukraine defied the odds pushing Russian forces "from the gates of Kyiv, achieving the greatest feat of arms of the 21st century.″
Johnson also described a vision for a future Ukraine so fortified and protected by the equipment, technology and know-how of Britain and its partners that it can never be threatened in the same way again. In the meantime, Johnson said, "there is a huge amount to do to make sure that Ukraine is successful, that Ukraine wins and that Putin must fail."