A business would have to go out of its way not to hear of the Great Resignation. People are leaving their jobs in volumes unprecedented in modern times, and maybe before. The potential indirect impacts on commercial real estate are multifold. For example, CRE loan servicing costs might jump because there aren't enough people at mortgage servicers. Lack of employees in retail presents revenue challenges, affecting rents. Getting construction crews for new development is a hurdle.
But the biggest issue is likely how CRE companies will attract and keep the talent they need to do business. Just as millions of other workers find themselves with employment options, so do those in real estate, whether working at investment firms, brokerages, developers, or property management.
"In my industry in multifamily, we noticed it was very competitive," says Jessica Weathers, a regional manager at Stonemark Group, says. "Especially when the pandemic hit. They had to be on site; they were essential employees." Staff were worried about the risk of getting ill and the potential option to stay home, especially with available aid. The workers "all have a great opportunity to work anywhere, so my goal is to keep you."
Old ideas of what to do—like focusing solely on compensation or benefits—aren't working, particularly with younger workers who have more expansive expectations than their elders. Executives and managers need to focus on their soft skills to better understand their employees and what they may be looking for.
WORKERS BAILING OUT
The statistics are a little mind boggling. The number of people voluntarily leaving their jobs every month rose in September to what the Bureau of Labor Statistics calls a "series high" of 4.4 million, or 3% of the working population. If not the largest number ever, it was at least the biggest since the government started to collect the statistics.
Why? In large part because people have found that they can. Back in 2018, for the first time in a generation, the number of open jobs was larger than the number of people out of work and looking for a job, as NBC News noted.
The more jobs per worker, the more alternative choices people have and the greater difficulty employers face in finding people. The lack of available workers/surplus of jobs has grown to at least a 20-year high, according to a GlobeSt.com analysis of government data.
For workers, jobs have become like a supermarket shelf full of cereals. Just as there's always something else you can have for breakfast people can opt for another job. With strong competition for employees and wages getting bid up in the process, trying to buy hearts and minds isn't effective, as there's always someone who can offer more.
Instead, CRE experts say it's time to rediscover softer skills to connect more effectively with employees and, critically, find out what they're looking for rather than assume it.
DISSATISFACTION
Many CRE firms have an employee acquisition and retention problem at a particularly bad time in economic history for it. The challenge may be invisible because it is an issue of personal dissatisfaction. But there has been some work to bring the issue to the surface.
One indication of what many might want could be found in a July survey from the Commercial Real Estate Women (CREW) Network. This isn't statistically perfect by any means: 1,018 professionals who responded mostly skewed female and white. Even though from across more than 25 specializations and more than 10 sectors of commercial real estate, the sample wasn't representative of all in the industry.
But findings like 12% either lost or left their jobs during the pandemic, with just over a fifth (22%) doing so willingly, should still be a source of concern. Of them, 68% planned to return to CRE in the same role they had been in, only at a different company, and 65% said that an offer of full pay and benefits restored wouldn't be enough to get them to return to the same workplace they left.
Almost half (47%) said their career satisfaction had decreased during 2020. About 70% said that the pandemic had stalled or derailed progress for women in CRE. More than half would choose a company with flexible work arrangements, all other things being equal, and nearly a fifth planned to look for such an employer.
There are a lot of dissatisfaction people in the real estate workplace, often having to deliver too much with too few resources.
Sands Companies, which develops, constructs, and operates build-to-rent, cottage-style multifamily communities throughout the Southeast, has been actively trying to recruit project managers.
"There's so much multifamily work going on that they're having trouble staffing projects," Hal Funderburk, vice president of construction, says. "You've got more jobs going, less people managing them. You have to make sure you don't put too much pressure on them, too much stress on them, because you might lose them."
Aggravating the situation are supply chain problems.
The pressure and frustration exists beyond construction, and it spreads across a business. "If you take your everyday property manager and ask how many reports they do in a month, it can be overwhelming," says Weathers. "They have to take care of the properties and provide numbers. But many times, those numbers come down to occupancy. That reflects on retaining. Retaining our teams leads to less confusion for our residents and better relationships with people in the office. I have seen it time and time again when there are six or seven managers in an office a year. The residents
are writing terrible reviews. The managers feel unheard and unseen and so they leave."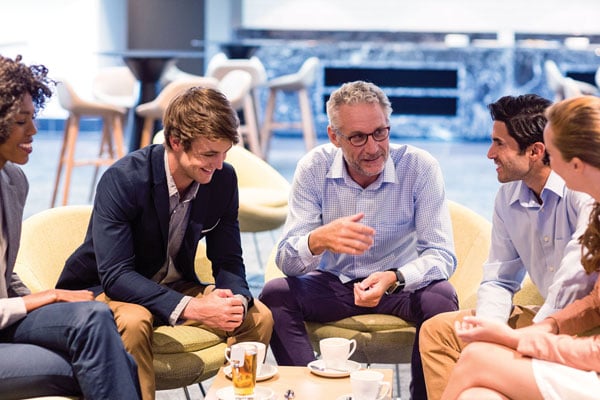 EMPATHIZE AND LISTEN
The result is that valuable employees leave and turnover rises. "The average we've seen is around 19% or 20% for commercial real estate for this particular time," says Adair Bryan, a human resources business partner at Transwestern.
For the business, the cost of replacing a worker can run about 20% of the annual salary, according to the Center for American Progress. An annual turnover of 20% means an additional and possibly avoidable expense of 4% of total compensation every year—a significant tax that significantly imposes upon themselves.
To keep people, a company must know what prompts them to leave, which means understanding what drives them away. Understanding, in turn, requires compassion, which needs emotional intelligence, thinks Tami Bonnell, co-chair of EXIT Realty Corp International. "This skill has never been more important than it is today, both between leaders and their agents, and between agents and their clients," she says. "The more leaders know about their people's dreams and the more we help point them in the right direction, the better we're able to attract and retain top talent."
The skill starts with communication. A classic mistake in employee retention is to assume that you know what people want, which leads to incentives that may not work.
"You're not going to be giving them a gold watch at their ten-year anniversary," says Karen Whitt, president of real estate management services for the US for Colliers. "That's the way things used to be."
"Why we're seeing this shift is employees are evaluating what is important to them personally," says Adair Bryan, human resources business partner at Transwestern. "During the pandemic, they had the time to focus on what is important. But it's based upon what each person's needs are. What we have to do is ask the questions of our employees."
Transwestern recently asked employees such questions as what their career goals were and what types of training or education they'd need.
Such interest shouldn't be a one-time activity, either. Weathers remembers working with a company initially during the pandemic. "They started with the all-hands calls and town hall meetings," she says. "It died pretty quickly." The rotation from front-of-mind to back-of-burner is common in inappropriate HR responses.
Bryan says that Transwestern has moved to ask about such topics as their career goals and what types of training they'd need to reach them. It's become part of annual performance reviews. "We want to make sure we're implementing what their career goals are in their professional advancement," she says. Say you're a building engineer and you want to become a lead engineer, but you need to shadow a lead or need training or certification." Then it becomes part of training and development goals.
But asking such questions also doesn't go far enough because the cracks have formed through fundamental challenges to what work is supposed to be.
"I think what people are really looking for is a more balanced and flexible working pattern," says JLL's Head of HR, Americas Katie Duncan. The hybrid office working at home, flex spaces, and giving people the room they need to manage their lives as well as their work will become critical. "With the war on talent, I think the office is central to this. I think it's the employer and employee relationship that's being redefined. Employers need to prove and demonstrate that they care for individuals by listening, having open-ended dialogues, and enhancing flexibility. Those decisions don't just sit with HR. They require collaboration across all of our leaders."
"It's giving them flexibility and room to work within their personal styles as much as possible," agrees Whitt. "We run on people. You want them to be happy to come to work and work as part of a team. Happy employees will stay with us longer. We ask them what we could do to make the business better."
Also, what a company can do so workers can better perform their jobs, because without that, much of what executives say could be just talk. Consider the impact decisions and requirements have on working people.
"You have to figure out ways to keep your guys motivated and we're also trying to grow the company," Funderburk adds. "Turnover has gone up. Let your guys know it's not their fault. You must set realistic expectations and [let them know] you're trying to support them to effectively run the project. We have to figure out how to staff it creatively, get their ownership in it and their buy-in and let them know they're part of the team."
Sands Companies president Joe Morrison looks at basics like how assignments are distributed to project managers. "Do they live three hours to our office and maybe travel two more hours to a job site?" he asks. "If we have two jobs in Florida, maybe it's better to have them work from the house an hour each way," rather than requiring an appearance at the office to make executives feel comfortable. Don't ask for things that don't matter to the result.
Weathers says, "My approach to retain my team is how to alleviate their stresses as much as possible. Personally, I don't work from home. I work from every sight on every single day. It shows I'm constantly here for them. If I see that they're overwhelmed, I ask, 'What is the one thing I can take off your plate today?'"
Or instruct that people have the options they need in how they work. "We had to make sure we were more fluid and give them more flexibility," says Bonnell. EXIT provided more days off, eased up on deadlines where it could, worked to understand that some people had to plan around families or maybe quiet time to be productive. "The work is getting done, which reassures us that we can be a little more fluid and have more flexibility."
Duncan says "that to retain folks, you have to be empathetic, and you have to listen. I don't think that changed prior to the pandemic. I think some of that is key leadership qualities."
It's also recognize that you're human as are the people who work with you, and respect and consider are necessary all the way round. Even as, hopefully, the pandemic recedes, there may still be another one, or a natural disaster, or other event that strains a company's operations again.
The lessons learn today can't be scrutinized off in the future. If not on a grade scale, some employees at any time will need consideration. Without upgrading how companies interact with employees, businesses will find that younger prospects, who have higher expectations, will work elsewhere. Executives will find themselves less able to recruit and retain the very people they will need for success in the future.