The government has faced a barrage of criticism, including from within the Liberal caucus, over the ongoing COVID-19 travel restrictions and mandates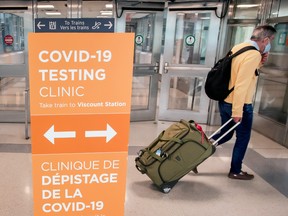 Article content
OTTAWA — With airport delays mounting and increasing pressure from within their own ranks to drop COVID-19 travel restrictions, the Trudeau Liberals relented slightly Friday by suspending random testing at airports.
Article content
Few details were available, but in a statement the government said it would suspend random testing at airports beginning Saturday and continuing until the end of the month.
A news release said starting July 1, testing, including for unvaccinated travelers, would be performed offsite.
A source speaking on background, because they were not authorized to speak publicly, said details of the offsite testing are being worked out, but current plans wouldn't require passengers to simply line up somewhere else, but instead give them time to complete the testing .
Airports, especially Toronto's Pearson International, have been swamped in recent weeks as Canadians return to vacationing abroad after a long pandemic. But the increase in passengers has swamped customs and security screenings leading to hours-long delays, missed or canceled flights and mounting frustration.
Cancellations, staff shortages and COVID mandates: Why there's chaos at Canada's airports

Inside Pearson Airport's 'Hell on Earth': In Toronto, there is no such thing as a short flight
Transport Minister Omar Alghabra has faced a barrage of criticism for his government's perceived inaction, with policies, industry groups and airlines all calling for the government to remove restrictions.
Earlier this week, Alghabra said he understood the pressure airports are under and the government is hiring more security screeners and other staff to help. He said they're continously looking at the existing mandates, but has made no commitments on when they might be dropped.
Article content
"I can tell you that these examinations and re-examinations are taking place on a daily basis and when we feel it's the right time to make and adjust our measures we will do so."
The current mandates expire at the end of the month, but the government can renew them.
Customs officers now have to check COVID-19 vaccinations adding to the delays and resulting in longer times for passengers to be processed. Canada currently requires travelers to fill out their vaccine information on the Arrive Can App 72 hours before they arrive.
The Canadian government requires travelers to be vaccinated with at least two doses of a recognized vaccine before they arrive or face a two-week quarantine.
Canada's chief public health officer, Dr. Theresa Tam, said Friday that two doses is not enough to protect people anymore.
"Two doses are not enough to provide vaccine effectiveness against Omicron infection," she said. "You need a booster, or a third dose rather, to bring that immunity back up."
The US ended its requirement for COVID-19 testing for arriving travelers on Friday, but still has a vaccine mandate in place for non US citizens. Many other countries have removed all of their COVID restrictions, while some still have strict rules in place.
The National Post confirmed reports that first appeared in the Hill Times that a majority of Liberal MPs are pressinguring the government to end the travel mandates, especially around vaccines.
Article content
"If it isn't densely, it's very close," one caucus member said about Liberal MPs' opposition to the current vaccine mandate for travel. All caucus members were granted anonymous so they could discuss internal deliberations.
"We have two choices, either we remove travel vaccine mandates or we adjust them so that they require a third or fourth vaccine dose. There is nobody, or almost nobody, in caucus that thinks it's a good idea to increase the number of doses as part of the mandate."
"I think the best word is frustrated," said another MP who asked to remain anonymous to discuss internal caucus deliberations. "People are getting a bit restless."
The MP said Liberals are not getting any better explanations inside caucus than the government is delivering outside of caucus on why the mandates are still needed. They said members are frustrated that they or their loved ones can't travel due to restrictions, and Liberal MPs have been raising the issue for weeks.
They said with other countries and provinces dropping mandates it is hard to explain the need for the rules.
"How do we justify keeping people at home?" the anonymous MPs asked.
Multiple MPs said there is wide support for keeping mask rules in place, and an acknowledgement that some rules might have to come back if the pandemic escalates in the fall. But they expected more announcements would come before the end of the month on easing COVID-19 health restrictions and mandates.
Article content
"There is a concern about managing a possible seventh wave in the fall, and continuing to be a responsible government that takes the right decisions for people's health and wants to avoid health systems getting too clogged up," an MP noted. "But that only works when the provinces are on board too."
The Conservatives jumped on media reports on the Liberals' caucus displeasure. They quizzed the government again on COVID-19 travel restrictions in the House of Commons on Friday.
"It is becoming clearer by the day these mandates and restrictions have nothing to do with science or evidence-based decision-making. It is all about control," MP John Brassard said.
"It is about the Prime Minister controlling Canadians from traveling to see their families, controlling businesses recovering from COVID, and controlling Liberal MPs by forcing them to be bit actors in his COVID theatre."
In response, Parliamentary Secretary for Health and Liberal MP Adam van Koeverden accused the Conservatives of being "in denial" about the COVID-19 pandemic.
"While we are in a much better place today than we were previously, this pandemic is not over and we must be prepared for any potential future scenarios," he said. "Our government will continue to assess the evolving situation at home and globally, monitor data and adjust border measures as required."
Twitter: RyanTumilty
Email: rtumilty@postmedia.com