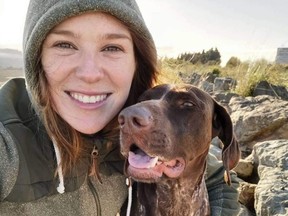 Article content
Saying "F— you" to a woman calling for the end of vaccine mandates found a Liberal MP and Olympic kayak gold medallist up the creek with no paddle or manners.
Article content
Now a Brantford-born woman, who lives in New Zealand with her new husband, a thoughtful mea culpa from Liberal Milton MP Adam van Koeverden would be appropriate.
"I'd like him to apologize to Canadians for saying 'f— off' and for making anyone feel belittled or ostracized due to medical choices," said Kate Faith, a teacher who got into a social media dust up with the one-time Canadian athlete of the year over the weekend.
In an interview Faith, who said she was fired as a teacher in New Zealand for choosing to not be vaccinated against the COVID-19 virus she later worked and fought off, was reaching out to the 2004 Athens Olympics champion to complain about not being able to fight off to visit her family.
"You guys stand in parliament and act like these mandates actually serve a purpose?" she wrote in an Instagram post to Adam van Koeverden's account. "I was a teacher who got fired for not taking a jab. Now I am a supply teacher, covering classes every single day because all the jabbed teachers have covid and can't work" but "I can't come home to visit my family."
Article content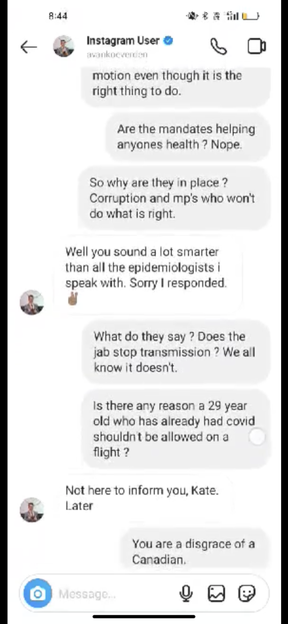 The exchange got testy, dismissive and profane.
"You clearly have no idea how this all works," was the response from van Koeverden's account.
Faith wrote back "you guys all vote to support Mr. Trudeau. You won't stand up and support a conservative motion even tough it's the right thing to do . . . Are the mandates helping anyone's health? Nope."
Saying you "aren't a scientist" from the van Koeverden account the answer was "well you sound a lot smarter than all the epidemiologists I speak with. Sorry I replied … Not here to inform you, Kate. Later."
Faith wrote back "you are a disgrace of a Canadian" to which the van Koeverden account wrote "F— you."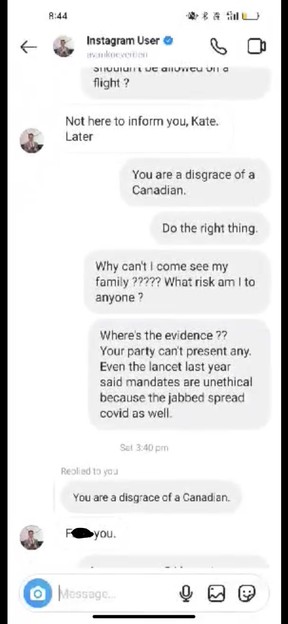 Faith wrote back "are you upset? I haven't seen my family in 2.5 years. I had to watch my papa (grandfather) get buried on facetime. I cant hug my parents or nana's because of your Liberal mandates and you had the nerve to swear at me?"
Article content
The account ended with "I'm no